My Blog
Posts for tag: pediatric dentistry
By Vitek Family Dentistry
November 30, 2018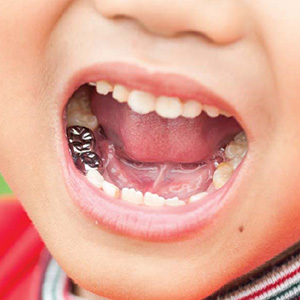 Although primary ("baby") teeth have a lifespan of only a few years, they're still important to a child's current and future dental health. In the present, they help a child eat, speak and smile properly. They also help create a healthy future as placeholders for developing permanent teeth yet to come in.
If, however, a child loses a primary tooth prematurely due to decay, the corresponding permanent tooth could come in misaligned. That's why we do what we can to help a decayed primary tooth reach its full lifespan. And there are different ways to do this depending on the type of tooth.
With front teeth, which don't encounter the same chewing forces as those in the back, we may use a tooth-colored filling. This approach is also preferable for appearance's sake since front teeth are highly visible when a child speaks or smiles.
Primary molars, on the other hand, need a more robust solution. A filling may not be able to withstand the level of long-term chewing forces that these back teeth normally encounter. And because they're less visible than front teeth, there's less concern about aesthetics.
That's why many pediatric dentists prefer stainless steel crowns for molars. Just like their permanent teeth counterparts, a primary crown fits over and completely covers a tooth. They're typically pre-formed, coming in different shapes and sizes that can then be customized for the tooth in question. After preparing and removing any decayed material from the tooth, we can usually install the crown in one visit with local anesthesia and a sedative (if the child needs it for anxiety).
While a steel crown isn't the most attractive restoration, it typically handles the higher chewing forces in the back of the mouth better and longer than a filling. That's especially critical for primary molars, which are some of the last teeth to fall out (as late as ages 10-12).  And besides preserving it as a permanent tooth placeholder, a crown also helps the tooth function effectively in the present.
Regardless of what method we use, though, preserving primary teeth is a primary goal of pediatric dentistry. And with a stainless steel crown, we can keep those important back molars functioning for as long as they're intended.
If you would like more information on caring for primary teeth, please contact us or schedule an appointment for a consultation. You can also learn more about this topic by reading the Dear Doctor magazine article "Stainless Steel Crowns for Kids."
By Vitek Family Dentistry
January 06, 2018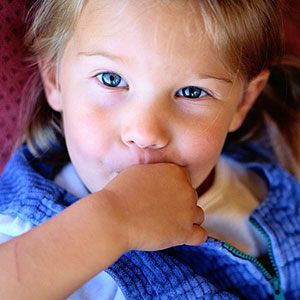 One of the biggest concerns we hear from parents is about their child's thumb sucking habit. Our advice: if they're under age 4, there's no need for concern — yet. If they're older, though, you should be concerned about the possible effect on their bite.
Thumb sucking is a universal habit among infants and toddlers and is related to their swallowing pattern during feeding. As they swallow, their tongue thrusts forward to create a seal with the lips around the breast or a bottle nipple. Many pediatricians believe thumb sucking replicates nursing and so has a comforting effect on infants.
Around age 4, though, this swallowing pattern begins to change to accommodate solid food. The tongue now begins to rest at the back of the top front teeth during swallowing (try swallowing now and you'll see). For most children, their thumb sucking habit also fades during this time and eventually stops.
But for whatever reason, some children don't stop. As the habit persists, the tongue continues to thrust forward rather than toward the back of the top front teeth. Over time this can place undue pressure on both upper and lower front teeth and contribute to the development of an open bite, a slight gap between the upper and lower teeth when the jaws are shut.
While late childhood thumb sucking isn't the only cause for an open bite (abnormal bone growth in one jaw is another), the habit is still a prominent factor. That's why it's important that you start encouraging your child to stop thumb sucking around age 3 and no later than 4. This is best accomplished with positive reinforcement like rewards or praise.
If they've continued the habit a few years after they should have stopped, we may also need to check to see if their swallowing mechanism has become stunted. If so, we may need to use certain exercises to retrain their tongue to take the proper position during swallowing.
While you shouldn't panic, it's important to take action to stop thumb sucking before it becomes a long-term problem. A positive, proactive approach will help avoid costly orthodontic problems later in their lives.
If you would like more information about thumb or finger sucking, please contact us or schedule an appointment for a consultation. You can also learn more about this topic by reading the Dear Doctor magazine article "How Thumb Sucking Affects the Bite."
By Vitek Family Dentistry
April 02, 2017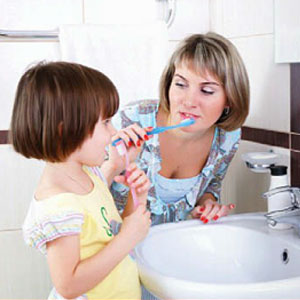 Proactive dental care is an essential part of childhood growth. But that care can be much harder for children with chronic health issues than for healthier children.
"Chronic condition" is an umbrella term for any permanent and ongoing health issue. Asthma, Down's syndrome, cystic fibrosis, congenital heart defects and many others fall under this umbrella, with varying symptoms and degrees of intensity. But they all have one common characteristic — a long-term effect on all aspects of a child's health.
That includes the health of a child's teeth and gums. Here, then, are a few areas where a chronic health condition could impact dental care and treatment.
Ineffective oral hygiene. Some chronic conditions like autism or hyperactivity disorder (ADHD) that affect behavior or cognitive skills can decrease a child's ability or willingness to brush or floss; some conditions may also limit their physical ability to perform these tasks. Parents and caregivers may need to seek out tailored training for their child's needs, or assist them on a regular basis.
Developmental defects. Children with chronic conditions are also more likely to have other developmental problems. For example, a child with Down, Treacher-Collins or Turner syndromes may be more likely to develop a birth defect called enamel hypoplasia in which not enough tooth enamel develops. Children with this defect must be monitored more closely and frequently for tooth decay.
Special diets and medications. A child with a chronic condition may need to eat different foods at different times as part of their treatment. But different dietary patterns like nutritional shakes or more frequent feedings to boost caloric intake can increase risk for tooth decay. Likewise, children on certain medications may develop lower saliva flow, leading to higher chance of disease. You'll need to be more alert to the signs of tooth decay if your child is on such a diet or on certain medications, and they may need to see the dentist more often.
While many chronic conditions raise the risk of dental disease, that outcome isn't inevitable. Working with your dentist and remaining vigilant with good hygiene practices, your special needs child can develop and maintain healthy teeth and gums.
If you would like more information on dental care for children with chronic health conditions, please contact us or schedule an appointment for a consultation. You can also learn more about this topic by reading the Dear Doctor magazine article "Managing Tooth Decay in Children with Chronic Diseases."