My Blog
Posts for tag: orthodontic treatment
By Vitek Family Dentistry
July 12, 2020
Sometimes, looking at old pictures can really bring memories back to life. Just ask Stefani Germanotta—the pop diva better known as Lady Gaga. In one scene from the recent documentary Five Foot Two, as family members sort through headshots from her teen years, her father proclaims: "Here, this proves she had braces!"
"If I had kept that gap, then I would have even more problems with Madonna," Lady Gaga replies, referencing an ongoing feud between the two musical celebrities.
The photos of Gaga's teenage smile reveal that the singer of hits like "Born This Way" once had a noticeable gap (which dentists call a diastema) between her front teeth. This condition is common in children, but often becomes less conspicuous with age. It isn't necessarily a problem: Lots of well-known people have extra space in their smiles, including ex-football player and TV host Michael Strahan, actress Anna Paquin…and fellow pop superstar Madonna. It hasn't hurt any of their careers.
Yet others would prefer a smile without the gap. Fortunately, diastema in children is generally not difficult to fix. One of the easiest ways to do so is with traditional braces or clear aligners. These orthodontic appliances, usually worn for a period of months, can actually move the teeth into positions that look more pleasing in the smile and function better in the bite. For many people, orthodontic treatment is a part of their emergence from adolescence into adulthood.
Braces and aligners, along with other specialized orthodontic appliances, can also remedy many bite problems besides diastema. They can correct misaligned teeth and spacing irregularities, fix overbites and underbites, and take care of numerous other types of malocclusions (bite problems).
The American Association of Orthodontists recommends that kids get screened for orthodontic problems at age 7. Even if an issue is found, most won't get treatment at this age—but in some instances, it's possible that early intervention can save a great deal of time, money and effort later. For example, while the jaw is still developing, its growth can be guided with special appliances that can make future orthodontic treatment go quicker and easier.
Yet orthodontics isn't just for children—adults can wear braces too! As long as teeth and gums are healthy, there's no upper age limit on orthodontic treatment. Instead of traditional silver braces, many adults choose tooth-colored braces or clear aligners to complement their more professional appearance.
So if your child is at the age where screening is recommended—or if you're unhappy with your own smile—ask us whether orthodontics could help. But if you get into a rivalry with Madonna…you're on your own.
If you have questions about orthodontic treatment, please contact our office or schedule a consultation. You can read more in the Dear Doctor magazine articles "The Magic of Orthodontics" and "Orthodontics For The Older Adult."
By Vitek Family Dentistry
August 22, 2018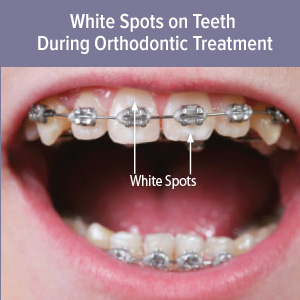 When your braces finally come off, you'll hopefully be astounded by what you see –once-crooked teeth replaced by a more attractive smile. But you might also see something you didn't expect: noticeable white spots on some of your teeth.
These spots called white spot lesions (WSLs) appear lighter than the surrounding tooth enamel due to mineral loss just beneath the surface. This happens because bacterial or food acids have contacted the enamel surface for too long and dissolved the underlying calcium and other minerals. This results in a small discolored and chalky-like area in the enamel.
WSLs are common during orthodontics because wires and brackets create hard to reach places for brushing and flossing, which can accumulate bacterial plaque. The bacteria produce acid, which weakens the enamel at these places. The tiny white spots that result are more than just unattractive—they can become entry points into the tooth for decay. That's why they should be dealt with as soon as possible—and preferably before they're created.
To that end, you'll need to do as thorough a job as possible brushing and flossing while undergoing orthodontic treatment. To improve your thoroughness try using an interproximal toothbrush that can maneuver more closely around braces hardware than a regular brush. You can also improve your flossing with a floss threader or a water flosser, a device that sprays pressurized water to loosen and flush away plaque.
If you do develop WSLs, there are some things we can do to treat them. We can attempt to re-mineralize the affected enamel with the help of topical fluoride (either pastes or gels for home use or with an office application) or a re-mineralizing agent. We can also use techniques like microabrasion, which restores damaged areas beneath the surface, or inject a liquid, tooth-colored resin beneath the WSL's surface to improve appearance and protect against decay.
If while wearing braces you do notice any white spots or other tooth discoloration let your dentist or orthodontist know right away. The sooner your dental providers can begin dealing with potential WSLs the better your chances for a healthy and beautiful outcome after braces.
If you would like more information on oral hygiene while wearing braces, please contact us or schedule an appointment for a consultation. You can also learn more about this topic by reading the Dear Doctor magazine article "White Spots on Teeth During Orthodontic Treatment."
By Vitek Family Dentistry
August 16, 2017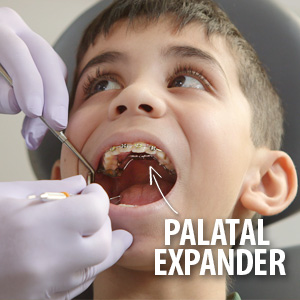 While crooked teeth are usually responsible for a malocclusion (poor bite), the root cause could go deeper: a malformed maxilla, a composite structure composed of the upper jaw and palate. If that's the case, it will take more than braces to correct the bite.
The maxilla actually begins as two bones that fit together along a center line in the roof of the mouth called the midline suture, running back to front in the mouth. The suture remains open in young children to allow for jaw growth, but eventually fuses during adolescence.
Problems arise, though, when these bones don't fully develop. This can cause the jaw to become too narrow and lead to crowding among the erupting teeth and a compromised airway that can lead to obstructive sleep apnea. This can create a cross-bite where the upper back teeth bite inside their lower counterparts, the opposite of normal.
We can remedy this by stimulating more bone growth along the midline suture before it fuses, resulting in a wider maxilla. We do this by installing a palatal expander, an appliance that incrementally widens the suture to encourage bone formation in the gap, which over time will widen the jaw.
An expander is a metal device with "legs" extending out on both sides and whose ends fit along the inside of the teeth. A gear mechanism in the center extends the legs to push against the teeth on both sides of the jaw. Each day the patient or caregiver uses a key to give the gear a quarter turn to extend the legs a little more and widen the suture gap. We remove the expander once the jaw widens to the appropriate distance.
A palatal expander is an effective, cost-efficient way to improve a bite caused by a narrow jaw, but only if attempted before the bones fuse. Widening the jaw after fusion requires surgery to separate the bones — a much more involved and expensive process.
To make sure your child is on the right track with their bite be sure to see an orthodontist for an evaluation around age 6. Doing so will make it easier to intervene at the proper time with treatments like a palatal expander, and perhaps correct bite problems before they become more expensive to treat.
If you would like more information on treating malocclusions, please contact us or schedule an appointment for a consultation. You can also learn more about this topic by reading the Dear Doctor magazine article "Palatal Expanders: Orthodontics is more than just Moving Teeth."