My Blog
Posts for: September, 2020
By Vitek Family Dentistry
September 20, 2020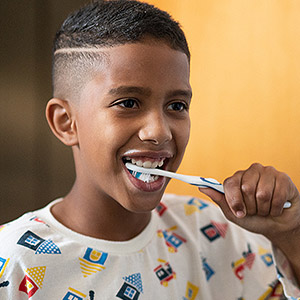 After a long hiatus, school athletes are gearing up for another sports year. Given the pandemic, they may be modifying some of their usual habits and practices. But one thing probably won't change: These young athletes will be looking for every way possible to improve their sports performance. And a new research study offers one possible, and surprising, avenue—beefing up their oral hygiene practice.
That's the conclusion of the study published in BMJ Open Sport & Exercise Medicine, a sister publication of the British Journal of Sports Medicine. Working with a group of about 60 elite athletes, a research group in the U.K. found that improving oral health through better hygiene practices might also boost overall sports performance.
Because there's some evidence that over 50% of athletes have some form of tooth decay or gum disease, the study's researchers wanted to know if there was a link between athletes' sports performance and their dental problems caused by neglected oral hygiene. And if so, they wanted to see if better hygiene might improve sports performance as well as oral health.
Their first step was to establish an initial baseline for the participants with an oral health screening, finding that only around 1 in 10 of the study's participants regularly brushed with fluoride toothpaste or flossed. They then administered a detailed questionnaire developed by the Oslo Sports Trauma Research Center (OSTRC) to gauge the athletes' perception of how their current oral health affected their sports performance.
After some basic hygiene training, the athletes were given kits containing a toothbrush, prescription fluoride toothpaste and floss picks. They were then instructed to clean their teeth twice a day. Four months later, researchers found the number of participants who regularly brushed increased to 80%, and flossing more than doubled. What's more, a second OSTRC questionnaire found significant improvement overall in the athletes' perception of their sports performance.
As scientific research, these findings still need further testing and validation. But the study does raise the possibility that proper dental care could benefit other areas of your life, including sports participation.
Athlete or not, instituting some basic dental care can make a big difference in maintaining a healthy mouth:
Brush twice and floss once every day to remove accumulated dental plaque, the main source of dental disease;
Get a professional dental cleaning at least twice a year to remove stubborn plaque and tartar;
See us if you notice tooth pain or swollen or bleeding gums to stay ahead of developing dental disease.
Improving your dental care just might benefit other areas of your life, perhaps even athletic pursuits. We guarantee it will make a healthy difference for your teeth and gums.
If you would like more information on how you can improve your dental health, please contact us or schedule a consultation. To learn more, read the Dear Doctor magazine article "Daily Oral Hygiene."
By Vitek Family Dentistry
September 10, 2020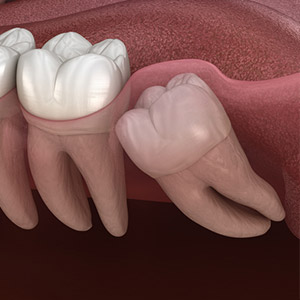 One of the major signs that a young person's dental development is nearing completion is the eruption of the last four permanent teeth: the third molars, located rear-most on either side of both the upper and lower jaws. But the advent of these molars, also called wisdom teeth, isn't always a cause for celebration: They can give rise to serious dental problems.
Wisdom teeth often arrive on an already crowded jaw, making them subject to erupting out of position or becoming impacted, totally or partially submerged in the gums. This can cause harm not only to themselves, but also to other teeth: They can impinge on and damage the roots of their neighbors; impede brushing and flossing and increase the risk of disease; and skew the alignment of other teeth to create poor bites that affect dental health and function.
Wisdom teeth are considered so prone to these problems (an estimated 70% between ages 20 and 30 have at least one impacted molar) that it's been a common practice to remove them before they show signs of disease or poor bite development. As a result, third molar extractions are the most common surgical procedure performed by oral surgeons.
But the dental profession is now reevaluating this practice of early removal. On the whole, it's difficult to predict if the eruption of wisdom teeth in a particular person will actually lead to problems. It may be premature, then, to remove wisdom teeth before there's sufficient evidence of its necessity.
As a result, many dentists now follow a more nuanced approach to wisdom teeth management. An impacted wisdom tooth that's diseased or contributing to disease is an obvious candidate for removal. But if the eruption is proceeding without signs of impaction, disease or poor bite development, many providers recommend not removing them early. Instead, their development is allowed to continue, although monitored closely.
If signs of problems do begin to emerge, then removal may again be an option. Until then, a more long-term watchful approach toward wisdom teeth may be the best strategy for helping a young person achieve optimal dental health.
If you would like more information on managing wisdom teeth treatment, please contact us or schedule an appointment for a consultation. You can also learn more about this topic by reading the Dear Doctor magazine article "Wisdom Teeth: Coming of Age May Come With a Dilemma."