My Blog
Posts for: October, 2017
By Vitek Family Dentistry
October 23, 2017
Your diet can play as important a role in your dental health as brushing and flossing. What you eat (particularly sugar) could increase your risk of tooth decay despite your hygiene habits. And vice-versa: a nutritious diet may help boost your preventive efforts even more.
Let's look at two very different approaches to diet and see how your dental health is likely to fare under each.
A High Sugar/Low Fiber Diet. Modern western diets heavy with processed foods are inundated with two particular types of refined sugars. The first is sucrose, which comes mainly from either beets or sugar cane. Foods (and beverages) may also contain a refined sugar from corn known as high fructose corn syrup. Refined sugars are added for taste to thousands of products like cake, candy, soft drinks or even condiments like catsup. These "free" sugars are easily processed by bacteria into acid. Combine that with fewer fibrous vegetables in the diet and you have a recipe not only for obesity and other health issues, but tooth decay as well.
A High Fiber/Low Sugar Diet. Fruits and vegetables make up a large part of this kind of diet, while added free sugars much less so. That doesn't make this diet sugar-free: all plant products contain simple sugars produced by photosynthesis. The difference, though, is that these sugars — glucose, fructose and sucrose (natural, not the refined versions) — are more slowly absorbed into the bloodstream during digestion because of the fiber content of fruits and vegetables. You'll also receive other nutrients like vitamins and minerals necessary for good health. Eating this kind of diet will help decrease the risk of tooth decay.
So there you have it: eat more fresh fruits and vegetables and restrict your intake of processed foods and sweets. You may also want to fine-tune a few items to maximize decay prevention: for example, eat starches in their natural form (whole grains, beans or certain fruits) as much as possible rather than refined or in combination with added sugar (cakes, cookies, etc.). And while fresh fruits with their naturally occurring sugars aren't a significant factor in tooth decay, dried fruits (especially with added sugar) might.
Bon appétit!
If you would like more information on proper diets for better oral health, please contact us or schedule an appointment for a consultation. You can also learn more about this topic by reading the Dear Doctor magazine article "Nutrition & Oral Health."
By Vitek Family Dentistry
October 15, 2017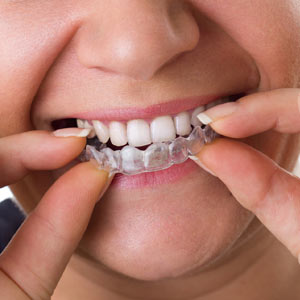 You've invested a lot of time and money in orthodontic treatment to improve your smile. If you're not careful, though, your teeth could actually move back to their old positions. The reason why is related to the same natural tooth-moving mechanism we use to straighten teeth in the first place.
Teeth are held in place by an elastic, fibrous tissue called the periodontal ligament lying between the teeth and the jawbone and attaching to both with tiny collagen fibers. The periodontal ligament allows for incremental tooth movement in response to pressure generated around the teeth, as when we chew (or while wearing braces).
Unfortunately, this process can work in reverse. Out of a kind of "muscle memory," the teeth can revert to the older positions once there's no more pressure from the removed braces. You could eventually be right back where you started.
To avoid this, we have to employ measures to hold or "retain" the teeth in their new positions for some time after the braces come off. That's why we have you wear a dental appliance called a retainer, which maintains tooth position to prevent a relapse. Depending on what's best for your situation, this could be a removable retainer or one that's fixed to the teeth.
Patients typically wear a retainer around the clock in the immediate period after braces, and then eventually taper off to just nighttime wear. Younger patients must wear one for several months until the new teeth positions become more secure and the chances of a rebound diminish. For older patients who've matured past the jaw development stage, though, wearing a retainer may be a permanent necessity to protect their smile.
Retainer wear can be an annoyance, but it's an absolute necessity. Think of it as insurance on your investment in a new, more attractive smile.
If you would like more information on improving your smile through orthodontics, please contact us or schedule an appointment for a consultation. You can also learn more about this topic by reading the Dear Doctor magazine article "The Importance of Orthodontic Retainers."